Most anticipated animes of 2022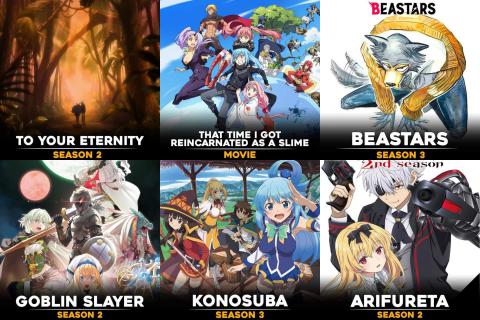 We're getting closer the end of 2021, a year that brought us anticipated seasons starting from "Mushoku Tensei" "Tensei Shitara Suraimu Datta Ken" and new names among fan favorites like "Tokyo Revengers" "Sekai Saiko no Ansatsusha" etc. as all the good things they will eventually end but the hype is about to start.
2022 is coming with a dozen of new seasons for many hits as well with new anime getting their 1st debut, without anymore delays let's get started.
We are going to list all the hits that getting their brand-new seasons/movies:
Attack on Titan:Final Season part 2
After a run time of almost a decade, AoT it's finally ending his frenchise with the very last season. All the questions that have been rose throughout the last season will finally be answered.
BLEACH: Final Arc
Bleach makes a return from the dead quite literally when we all lost our hope, 2022 brought one of biggest Shounen animes back in stage.
Black Clover (Movie)
Despite of the fans being left in the dark regarding a new season for the anime, they will get a pleasant surprise with a new movie.
Dragon Ball Super: Super Heroes (Movie)
Nothing can surpass this show. Dragon Balls comes once again with another banger for all fans out there, something that many will look forward to.
Vinland Saga (Season 2)
Season 1 ended with a huge cliffhanger, making many of the anime fans jump right into the manga but for those who decided to wait, well the waiting is over! Season 2 is on its way and you'll finally find out what will happen to our main character. It's a highly recommend series for those who love Historical Drama, Betrayal and amazing Animation.
JoJo's Bizarre adventure: Stone Ocean (Part 6)
For all Jojo fans out there, 2022 is the year for you! Part 6 is coming up facing the story of Joylne Cujoh and her grand escape with the help of Jotaro from the prison in Florida, the place where all bizarre things happen.
Slam Dunk (Movie)
It's been 25 years since this anime ended its run time. However, we got a pleasant surprise.  Out of nowhere they decided to create a new movie. For all sport anime fans, especially Basketball, this one is perfect for you.
Record of Ragnarok ( Season 2)
 Humans vs Gods, on a 1vs1 battle where only one gets out alive which the fate of humanity is on the line. RoR comes with a 2nd season with a gap of 1 year from the 1st season's release. For those who love epic fights and a simple straight forward plot.
Kingdom (season 4)
Kingdom is getting another season right after the 3rd season ended in 2020. Kingdom is a Military Drama, for all new watchers who are looking for an anime with insane plot and betrayals.
The saga of Tanya the Evil (Season 2)
 After a long wait of 5 years Tanya finally returns with her 2nd season where all fans can "enjoy" her evil but adorable behavior. For all new watchers who want to get in to the series here a small summary:

A simple salesman "accidentally" lost his life and gets reincarnated in an alternative world in WW1, as a Cute little girl who got recognized as a prodigy. For the rest you will have to discover it yourself.
Overlord (Season 4 & Movie)
A personal favorite, what looked like an eternity finally ended. Overlord is coming back not only with a new season but with a movie as well, something that I will look forward to and let's not forget the new watchers:

Overlord is centered around the main character who was about to log out of a game which would get shutdown, but for an unknown reason he's teleported, as his Avatar, inside the game's world. Now having a maxed-out character and his high lvl NPCs, he aims to become the ruler of this brand-new world and finding why he got in there.
The Rising of the shield Hero (Season 2 & 3)
After many Backlashes and making all fans wait for a long time, Rising of the Shield Hero is coming back strong with 2 new seasons. An Isekai that's not centered around an overpowered main character but to one that has to work his way from bottom to top.
Sword Art Online Progressive: Aria of a Starless Night (Movie)
Sao is still going at it, keep the frenchase running almost yearly.
JuJutsu Kaisen 0 (Movie)
 This will probably be one of biggest hits of 2022! For all new Jujutsu fans as well as those who have planned to watch the anime, this movie is important to the plot because it will go back in the past to explain what happened before we were introduced to the main trio.
Demon Slayer (Season 2)
Our loving show Demon Slayer is finally coming on 2022 with season 2, many of our questions will finally be answered.
The Quintessential Quintuplets (Movie)
 For all Slice of life anime fans out there "The Quintessential Quintuplets" (based on the series with same name) is one the highest anime recommendations of the year 2022 and for Fans of series show is far from over.
Mob Psycho 100 (Season 3)
The goofy looking but kind heart Shigeo Kageyama also known as Mob comes out with his 3rd season. For all anime watchers who had "Mob" in their list for awhile it's best time to check it out due to being one of best shounen comedies and friendly to all ages.
Kaguya-Sama: Love is War (Season 3)
After 2 seasons being a huge success this Romance, Comedy shows comes back with another season to bring smiles. How will the story get unfolded this season? We just have to wait and find out.
Tonikaku Kawai (Season 2)
The weird love story of Nasa Yuzaki & Tsukasa Tsukuyomi will continue with their 2nd season, how will their abnormal relationship go now?
One Piece (New Movie)
The never ending show will release a new movie next year, roomers say it will be related to Shanks and the creation of his crew, but we need to wait for official confirmation.
Arifureta ( Season 2)
After 3 years of waiting we finally get to see more of this Isekai Harem. For all isekai lovers who are looking for something new, Arifureta is definitely something you wanna check out.
The Devil is a Part timer (Season2)
When all hopes were lost, The Devil is a Part timer finally will get what it long deserved. Will the devil finally get that raise?
Rent-A-Girlfriend (Season 2)
Rent-A-Girlfriend is worth your time if you're a fan of romantic comedies, and with 2nd season coming out you will have more to enjoy from this masterpiece.
Made in Abyss (Season 2)
If you enjoy Adventure Thriller shows this will be definitely for you, with cute animation and enjoyable characters, although this anime is darker than it looks like.
Date a Live (Season 4)
If you're a fan of comedy, romance (more specifically a harem) and sci-fi, this anime will satisfy you.
The Misfit of Demon King Academy (season 2)
After the end of the 1st season in 2020, we are finally going to get the next season. As the name of the anime says, this story is all about the Demon King Anos Voldigoad having reborn is a new life and knowing that all the informations about him lead to an impostor.
Goblin Slayer (season 2)
The wait that we had to endure since 2018 finally ended. Goblin Slayer is a good anime for whoever likes action, adventure and fantasy.
Danmachi (Season 4)
Also known as "Dungeon ni Deai o Motomeru no wa Machigatteiru Darou ka" has an adventure who's willing to do anything to be the greatest adventurer in the land.
Konosuba (Season 3)
With a movie, a crossover spin-off, and two seasons of KonoSuba: God's Blessing on this Wonderful World! already released, there's plenty of Kazuma, Aqua, Magumin and Darkness yet to enjoy.
That time I got reincarnated as a slime (Movie)
After the end of the 2nd season on 21st of September, it was announced the That time I got reincarnated as a slime (Movie) and it is planned to release on Fall 2022.
Teasing Master Takagi-san (Season 3 & Movie)
After having the 1st and the 2nd season on 2018 and 2019, this anime will come in 2022 not only with a new season and also a movie. For new-watchers this anime is about Takagi teasing his classmate, Nishikata and seeing him taste of his medicine.
Uzaki-chan wants to Hang out! (Season 2)
This anime has its genres at comedy, romance, slice of life and ecchi. The second season will have Hana Uzaki and Shinichi Sakurai finally beginning to realize there might be something more than friendship. What will happen in this new season?
Don't toy with me, Miss Nagatoro (Season 2)
This romantic comedy had a lot of fan demand for a 2nd season and finally there it is! The relationship between the two main characters will probably continue to develop and who knows what will happen while developing it?
Welcome to Demon school Iruma-kun (Season 3)
Any age group can watch this series, it is cute and funny. The perfect anime to relax your mind and it about a 14 year old boy whose parents sold him to a demon named Sullivan.
BOFURI (season 2)
The BOFURI Season 2 anime will have Maple and Sally taking on large-scale monsters, game bugs, and new friendships. This anime is good for whoever likes action, adventure, comdy, fantasy and sci-fi.
Beastars (Season 3)
An unusual anime that instead of having humans as main characters it has

anthropomorphic animals (animals with human characteristics). Animals try to live peacefully but there seems to be a problem, carnivores and herbivores.
Fruit Basket: Prelude (Movie)
The film will serve as an omnibus to the three-season anime series, including the Kyouko to Katsuya no Monogatari (The Story of Kyouko and Katsuya) prequel, as well as new scenes written by the original creator Natsuki Takaya taking place after the television anime.
After having its 1st release back in 2001 (and having a re-done in 2019), this anime will have a new movie in 2022.

Fruits Basket tells the story of a young girl named Tohru, who ends up meeting the various boys of the Soma clan, but learns that they're each possessed by an animal of the Chinese Zodiac.

To your Eternity (Season 2)
This is an emotionally deep and serious anime, it asks about many worldly question through its story. This the story of an immortal name Fushi who is sent to Earth to experience what it means to be human.
Dr.Stone (Season 3)
After the sudden petrification of humanity for almost 3,700 years, Senku Ishigami, a genius, and a bright individual is doing the best he can to restore civilization. 
My Hero Academia (Season 6)
There aren't many shounens like My Hero Academia, an anime that can catch worldwide attention but now, there it comes again with a new season. This anime works to anyone that likes super powers and school life.
Bungou Stray Dogs (Season 4)
The 1st season of Bungou Stray Dogs was aired on 2016 and it received such a positive reception that new season kept coming in and Finally 4th  season is coming out, we can enjoy more of our lovely Dazai.
Fairy Tail: 100 year quest (New season)
It was announced that the manga from the sequel of Fairy Tail is finally getting and anime adaptation. Natsu, Lucy, Happy, Erza and the rest of the guild decided to take "The 100 years quest", a quest that no one had the courage to take it.